Osteopathy
Joanna C. Cheaney D.O. (Hons)
Liz Halsey B.Sc.(Hons) OST.M.Phil
Jose Fernandez B.Sc.(Hons) OST
Elizabeth Curphey B.Sc.(Hons) OST.B.A.(Hons)
Each has undergone a four year full-time training at the prestigious British School of Osteopathy or the extended pathway at the College of Osteopaths. Between them they now have many years of practice under their belts.
Osteopathy is a form of treatment which tends to focus on imbalances in the musculo-skeletal system, looking at each problem and how it affects the whole body, rather than just locally. For this reason, whatever problem a patient brings to the practice, the Osteopath will probably need to look at the whole spine and limbs and how the posture holds this structure together.
Osteopathy is appropriate for people of any age – from babies and children right through to adults and senior citizens. The type of problems that osteopaths can help with varies from sudden acute attacks of pain to long standing more complex problems. Typical examples are joint pains, arthritic or rheumatic pain, neck, and backache, sciatica, muscle spasm and fibromyalgia through to symptoms which may have a link to the musculo-skelatal system such as digestive and circulatory problems.
Paediatric osteopathy includes the treatment of babies and children. In children, challenges of the body keeping up with growth spurts, commonly present as growing pains and joint irritability, which can also respond well to osteopathic treatment. We also treat women before, during and after pregnancy when their bodies need to go through and manage physical changes and differing demands.
Treatment varies from very gentle balancing techniques, known as cranial osteopathy, to soft tissue massage and stretching and sometimes manipulation of restricted joint areas. The number of treatments required differs depending on the severity of the problem and the time it has been in existence.
As with any of the treatments available at this practice, if you would like any further details, please ask the receptionist or one of the practitioners who would be only too pleased to discuss your problem with you. Consultations take 45 minutes for initial and subsequent treatments.
Acupuncture
Fiona qualified in traditional acupuncture with a first class degree from the College of Traditional Acupuncture in Leamington Spa in 1995. She has been practising ever since from her own clinic and has recently joined us here. Fiona has a special interest in fertility, assisted conception and gynaecological issues as well as experience in treating a wide range of conditions. Fiona is a member of the British Acupuncture Council, which guarantees excellent levels of training and continuous learning amongst its members.
Acupuncture is a system of healing, which has been practiced in the Far East for thousands of years to treat people with a wide range of illnesses. According to acupuncture theory, our health is dependent on the body's motivating energy - Qi - moving in a balanced way through channels beneath the skin. The flow of Qi can be disturbed by a number of factors, including anxiety, stress, anger, grief, poor nutrition, infections and trauma. The insertion of fine needles into the channels can stimulate the body's healing response and help restore natural balance. As well as relief from a particular condition, many people find that it provides an enhanced sense of well-being and relaxation.
In the first appointment, the acupuncturist will assess your general state of health in order to give you the most effective treatment, by discussing your health issues, taking your pulse and looking at your tongue. You are recommended to visit your acupuncturist once a week initially. Sometimes the effects of the treatment are dramatic and only 1 or 2 treatments are required and other patients may need treatment over several weeks.
Pilates
Dee graduated from the University of Salford in 2004 with a B.Sc.(Hons) in Physiotherapy. Dee is registered with the Health Professionals Council and is a member of the member of Pelvic, Obstetric and Gynaecological Physiotherapy (POGP). She has recently completed a Post Graduate Certificate in continence, bladder and bowel dysfunction. Dee also has post graduate training with the Australian Physio Pilates Institute.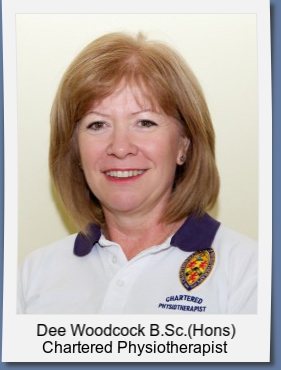 Pilates is a mind body conditioning exercise program that targets the deep postural muscles of the abdomen and spine to improve overall central core stability and posture. The mind and body are brought together to achieve these aims through the following eight sound principles: breathing, concentration, control, centering, precision, flowing movement, integrated isolation and routine.
It puts emphasis on spinal and pelvic alignment, breathing, and developing a strong core or centre, and improving co-ordination and balance.
It is useful for improving balance, lumbar stabilization and flexibility, lower back pain, and pelvic floor dysfunction. Dee offers one to one sessions either to teach you the basic principles of pilates or to help you modify your pilates technique if back problems challenge your pilates performance. Patients will be ready to find a local class or put the new techniques into their personal practice.
Women's Health Physiotherapy
Dee has many years of experience of treating musculo-skeletal aches and pains associated with pregnancy and the post natal period. The physical changes during pregnancy can put the body under huge strain. Women gain an average of 14 kilos (around 2 stone) in weight during pregnancy. Add to this, hormonal influences and mix with stresses of modern life, it is no wonder that many women suffer and don't know what to do for the best. As a specialist physiotherapist and a mother of four, Dee uses a holistic approach to assess each patient and uses a variety of treatments including manual therapy, soft tissue release, acupuncture, exercise and advice to ensure a safe and comfortable pregnancy and recovery.
Pregnancy and vaginal delivery are risk factors for pelvic floor dysfunction. Other contributors are menopause, smoking, obesity and previous gynaecological surgery.
One in three women will suffer some pelvic floor dysfunction in the form of incontinence, urgency, frequency, pelvic pain or sexual dysfunction. Embarrassment means it often takes 10 years before women seek help and many just choose to live with their secret.
Dee will sensitively assess these clients, allowing them to discuss their personal concerns and ensuring full confidentiality. Treatment is explained and discussed fully to ensure client comfort and no surprises. Dee is happy to answer any questions at any time prior to or during appointments.
Chiropody/Podiatry
The podiatrist role is the assessment, diagnosis and treatment of lower limb disorders to relieve pain and maintain mobility. Whilst providing foot health services traditionally associated with chiropodists such as treating corns, callus and nail problems they also are qualified to treat people with diseases such as diabetes, arthritis and circulatory diseases and to treat sports injuries.
Foot and Ankle Pain - Pain in the lower limb can be caused by injury, anatomical or physiological problems, footwear or certain activities or a combination of these factors. Biomechanical assessment can identify causes and help relieve the pain through an appropriate treatment plan that may include orthotics and specific exercises.
Provision of orthotics and insoles - Pain caused by limb length difference or biomechanical problems is usually treated with footwear adaptations, insoles or orthotics.
Nail and skin problems - Suzanne can diagnose and provide a range of treatments for bacterial and fungal infections of the feet. Verrucae are caused by a virus and usually resolve without treatment within 6 months to two years. Treatment is only required if they are causing pain.
Toes Nail Cutting - Some people have difficulty cutting their own nails due to sight or mobility problems. Others have unusually shaped or thickened nails. I provide a cutting service and can reduce the depth of thickened nails to make them more manageable.
Callus and Corns - I can remove callus and corns and provide advice on how to reduce or prevent reoccurrence.
Massage Therapies
Justine has studied several different forms of complementary therapy, as a fully qualified registered Aromatherapist and Massage Therapist she trained full time at North Area College in 2003/4.
In such a busy, fast paced world we need to find 'Balance'. Complementary therapies can help release tension and stress and enable you to boost your immune system whilst improving your energy levels and general feelings of well-being. They are designed to treat the whole person by assisting the body's natural ability to balance, regulate, heal and maintain itself.
Justine has studied many different forms of complementary therapy and is a fully qualified, registered Aromatherapist and Massage Therapist as well as a Reflexologist. She trained full time at North Area College in 2003/4.
Remedial Massage Therapy is a deep massage. It is used to treat strains, sprains or any injury where the skin is intact. It helps remove blockages, scar tissue and adhesions, speeds up recovery and encourages a more complete healing. It also helps relieve muscle tension, eases aches and pains and reduces stress hormones by boosting the circulatory system, helping eliminate toxins and thereby nourishing all the body's cells. Through boosting the immune system we can feel revived, relaxed and refreshed.
Aromatherapy is the use of essential oils (highly concentrated plant extracts) in a carrier oil, specially blended for an individual person's needs. It is applied to the body through massage and works on both a physical and emotional level. Blends can also be tailor made for home use. Anti-inflammatory creams, cooling sprays and gels can be made to help between treatments and for self help.
Reflexology is a massage and pressure therapy applied to the feet or hands. It treats the whole person and not just the symptoms, helping the body regulate and balance itself. Reflexology can improve energy levels and promote a feeling of well-being. It can help stress related disorders such as tension headaches, IBS, insomnia, feelings of anxiety and mild to moderate depression. It is also very useful during hormonal changes in a woman's life. It can help with the pressure of fertility treatments, encouraging the body to relax well. It can be aimed specifically for women during pre-conception, pregnancy, labour and the postnatal period, helping to alleviate common symptoms such as nausea, constipation, heartburn and swollen ankles, whilst improving energy levels and aiding sleep.
Indian Head Massage originates from the ancient healing practice of Ayurveda. It helps relieve upper body muscle tension and disperse toxins from the body. It stimulates the circulation and relaxes the neck and scalp muscles where lots of people hold tension. Indian Head Massage can help relieve chronic upper body tension from sitting at a computer all day or driving long hours/distances, reducing headaches, migraine, sinusitis and eye strain whilst also improving hair condition and aiding deep sleep.
Natural Face Lift Massage is a treatment using Japanese face massage based on acupressure and meridian theory which dates back thousands of years in Japan and China. This is a wonderfully relaxing yet energising treatment on the face and head that is suitable for both women and men. It works on a superficial and deeper level to improve the texture and muscle tone of the skin, improving the flow of lymph and encouraging the removal of toxins. By working Tsubo points on the face and scalp it helps to prevent lines, reduce wrinkles and puffiness – a natural facelift!
Hypnotherapy
Heather has a special interest in using hypnotherapy to help treat people with chronic pain conditions and currently chairs a female pain support group at St. Mary's hospital in Manchester.
Hypnosis is a state of mental relaxation, commonly referred to as a 'trance state'. Hypnosis is a natural process that we all experience on a daily basis, such as when we are day dreaming or coming in and out of our sleep states.
Hypnotherapy uses hypnosis in a safe, therapeutic and positive way, allowing you to communicate with your subconscious mind. In this relaxed and receptive state, you will allow your conscious mind to rest and your subconscious mind to be alert and responsive.
You are in control at all times during the hypnotherapy and will be aware of noises etc around you, although they will not disturb you.
Hypnotherapy has been successfully used by people for a variety of conditions, ranging from treatment of phobias and unwanted behaviours, management of stress, treatment of many different health conditions (including IBS and dermatology problems) and pain management. Heather has a particular interest in using hypnotherapy to help people with chronic pain management and stress management.
Each session lasts for up to one hour (the first session is an hour and a half, including a free half hour consultation). The number of sessions people require varies upon the individual and the condition being treated. Please feel free to contact Heather, who will be delighted to discuss this with you.
Mindfulness
Heather has always had an interest in the mind-body connection in relation to health and illness and is enthusiastic about the potential benefits that people can experience through hypnotherapy and mindfulness including pain control and stress management.
There is growing awareness and popularity in the use of mindfulness in all sorts of areas including schools, businesses and for individuals. Learning to be "present' in the moment, rather than worrying about the past or concerned about the future can allow us to really be in that moment, fully experiencing all that it has to offer.
There is research evidence to show that practicing mindfulness on a daily basis can potentially help us in a variety of ways including stress reduction, pain management and improved concentration. Heather incorporates the use of mindfulness in to her sessions with individual clients and her group work. Heather aims to make mindfulness as accessible as possible for clients, exploring how mindfulness practice can be included in their lives.
Mindfulness is suitable for children and adults alike and people can develop the skills at any age. Please feel free to contact Heather if you have any questions about Mindfulness.
(Please note if you have a mental health condition, it is important that you speak to your mental health professional before attending any Mindfulness sessions to ensure it is suitable for your condition)